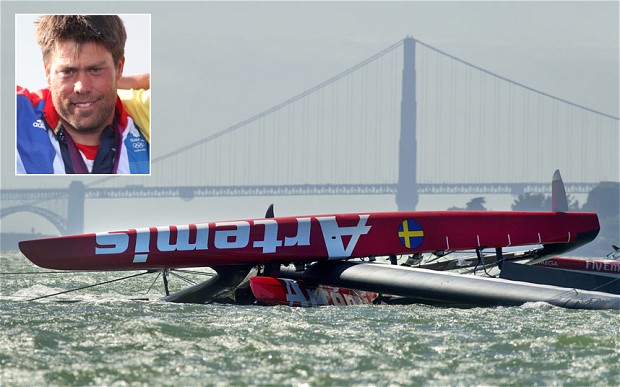 Kapsejlads
Britisk avis tegner portræt af Andrew Simpson
The Guardian giver et indblik i hvem den nu afdøde Artemis-gast, Andrew Simpson, var. Den dobbelte OL-guldvinder efterlader hustruen Leah og sønnen, Freddie.
Af Troels Lykke |
Andrew Simpson was one of the most talented – and engaging – members of British sailing's golden generation.
"Bart" as he was known to everyone in the sailing world grew up competing with and against Sir Ben Ainslie, the winner of four Olympic golds, and double-Olympic gold medallist Iain Percy.
Simpson and his best friend Percy won gold together at the Beijing Games and were hugely disappointed to take only silver at the London Olympics last summer.
The pair had led the regatta off the Dorset coast in the Star class, a venerable old keelboat, but were squeezed out of the top spot in the final race after a shifting wind propelled most of the rest of the fleet past them and by the vagaries of the medal course.
As ever, Simpson was philosophical. "It's a lottery at times. That last run proved it. We didn't get it right. Sorry for everyone who's watching. We tried our hardest."
Simpson caught the sailing bug when he was a young boy, despite being born in 1976 in the landlocked town of Chertsey in Surrey.
While visiting his grandparents in Christchurch, Dorset, he took to the waves with his parents when he was just four or five in their Sea Flyer boat.
His talent quickly became obvious and soon he was competing against Ainslie and Percy – the latter was to be the best man at his wedding.
Of Ainslie and Percy, Simpson said last year: "They are both fantastic sailors. Sometimes you thought you were lucky to be sailing against those guys because they're such good sailors and sometimes I'd beat them although more often than not they would beat me.
"They are that little bit better for reasons I learned later in life: that they worked harder at it, not necessarily because they are much more talented."
In his younger days he competed in the one-man dinghy Laser and Finn classes. In many countries his physique and skill would have made him the standout sailor in the Finn. But, of course, he had Ainslie to compete with.
In 2007 he teamed up with Percy in the Star class. The pair won a bronze at the world championship and then took gold in the class in Beijing in 2008.
At the time he said: "You win a gold medal with your best friend and you're on the podium and the national anthem is played and you've just had a really tough regatta – it's not like we won it easy, it was a real war.
Iain looked like he was going to cry so I put my arm around his back and said: 'Nice work mate.' He was just exhausted or about to cry, I'm not sure which, but he is quite a tough lad so he kept it in."
Simpson was always a joy to be around – witty, self-deprecating and always ready to explain to anyone who was interested the esoteric intricacies of his sport. He was also a great team player, keen to help younger sailors and members of the Paralympic team with their boats, tactics or training.
Off the water he was laid back. On it he was tough and competitive but always fair. Star-class racing is considered one of the more gentlemanly sailing disciplines.
John Derbyshire, performance director of the Royal Yachting Association (RYA), said: "We're devastated. Andrew is someone I've worked closely with since the age of 16 – he was a great talent, and a key figure in our world class programme over many years culminating in his well-deserved Olympic success.
"He was a huge inspiration to others, both within the British sailing team and across the nation and our deepest sympathies go out to his family at this terrible time."
Stephen Park, the RYA's Olympic manager, said: "Andrew was a fantastic sailor who got the best out of everyone he sailed with. He was much loved and will be sorely missed by everyone in our close-knit team. Our thoughts today are with Andrew's family."
A statement from Ainslie's Oracle team read: "Today is a sad day for all of us in the sailing community. Andrew Simpson was a great person, a terrific sailor, and a good friend to all of our team. Our thoughts are with his family and the entire Artemis team. He will be dearly missed."
The Star class boats will not form part of the Olympic regatta in Rio de Janeiro in 2016.
The former America's Cup sailor Andy Green said Simpson had been questioning if he wanted to carry on sailing.
Green told the BBC: "Because his friend Iain Percy was at Artemis he went over there in February and started racing with them as a valuable asset. He will be sorely missed by them."
Simpson leaves a wife, Leah, and a young son, Freddie.
Kilde: The Guardian