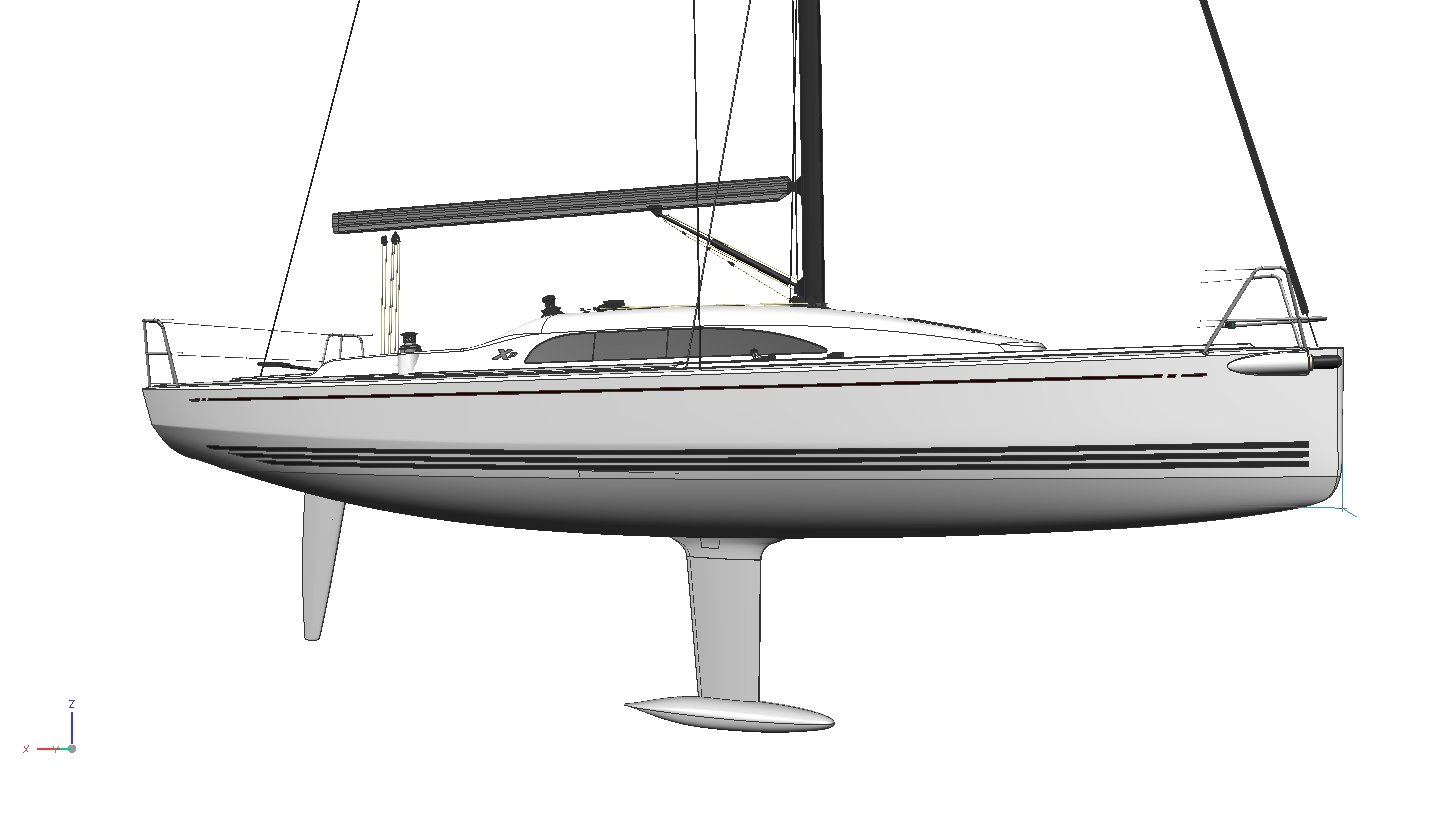 Kort Nyt
Niels Jeppesen: Xp 33 bliver ny trendsætter
De 30 første Xp 33 koster 955.000 kr. i intropris. Båden, der flyder i 2013, har 15 procent mere sejlareal, men er alligevel 70 procent mere stabil. Xp 33 er 10 procent hurtigere end en X-99.
Af Troels Lykke |
The new Xp 33 will become a new trendsetter, skriver X-Yachts i dag til pressen på engelsk.
The new 33 ft X-Yacht benefits from the X-Yachts latest composite technology. The hulls are laminated in a full sandwich construction using vacuum infusion to establish the best ratio between the vinylester matrix and the structural fibres.
This lamination technology was introduced back in 2008, when the X-65 was developed and is now utilized in all the new Xp models. These include the Xp 44 (launched April 2011), the Xp 38 (launched August 2011), and the all new Xp 50, which is due for launch in April 2012.
Skrogbredde og lavt tyngdepunkt i båd giver fart
A fast yacht depends on a good level of stability to carry enough sail. This stability can come from a number of sources, mainly hull beam and a low centre of gravity.
Increasing hull beam at the waterline increases the stability by generating more buoyancy on the leeward side. Increasing hull beam above waterline allows the crew weight to move further to windward.
This route to stability is not without cost though. It also increases the wetted area of the hull making it slower in light airs and the increased beam above water only helps when the crew are hiking, not when you are sailing short-handed or when things go wrong.
Lavt tyngdepunkt som muligt
For this reason X-Yachts have always been focussed on keeping the yachts' centre of gravity as low as possible. Using advanced lamination techniques and efficient structural solutions, they can keep more weight in the keel where it belongs.
X-Yachts is well known for producing good all-round performers and the new X-Yacht models are seen as market leaders! Some sailors love to get the adrenaline running on the race course.
Others just like to cruise in a yacht that performs well and responds to good trimming and seamanship. By providing the perfect balance between sailing performance and practical solutions, X-Yachts are able to cater for both!
Lettere end konkurrenterne
The Xp 33 is lighter than many production competitors. In addition to the lamination technology described, every detail has been investigated and analysed in the pursuit of the right weight-practicality balance.
Above deck the halyards and trim lines are exposed to keep the structure simple and light. There are no hull windows and limited deck hatches to simplify the deck whilst maintaining enough light and access.
Letvægts interiør
Below deck you will find a very functional and lightweight interior. The structural bulkheads are made from plywood securely bonded to hull and deck but the furniture is partially crafted in composite materials.
This "simple but effective" approach to the Xp 33 will be the key driver to her performance.
Hurtigere end X-99
The X-99 offered superb sailing performance back in 1985 when it broke the "norm" for modern yachts' sailing performance.
Compared to her, the new Xp 33 is expected to sail almost 10% faster VMG (velocity made good) against the wind in medium wind speeds and between 10 and 15% faster on a broad reach in medium to fresh wind speeds, according to X-Yachts' VPP tests.
70 procent mere stabilitet - 15 procent mere sejlareal
Xp 33 will have almost 70% higher stability enabling her to carry her 15% larger sail plan much more effectively (full racing main and asymmetric spinnaker).
That, blended with an increase in waterline length of almost one meter, gives the Xp 33 that extra boat speed potential, which once again, will set the standard in the 10 meter performance yacht market.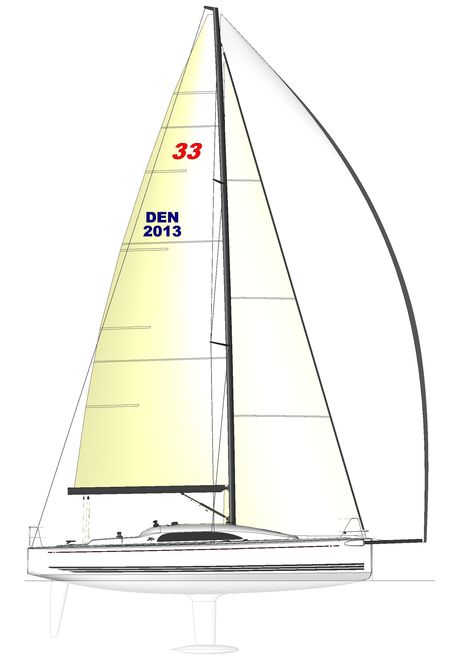 Kulfiber-bovspryd
Carbon fibre retractable bow sprit is standard as is the composite tiller. The yacht comes with aluminium mast and boom with discontinuous rod rigging as standard. A slightly taller carbon mast is available as an option for increased stability and sail area.
Fås med 2,2 meter dyb blykøl
As standard, the keel is a cast iron 'T-keel' configuration with a draft of 1.90 m, with an option to upgrade to a 2.10 m deep composite keel with a lead 'T' bulb.
The deck lay out facilitates an under deck furling head stay drum (optional) and the standard anchor compartment can accommodate an optional anchor winch.
Intropris på 101.900 euro
The all new Xp 33, expected to launch by the end of 2012, springs from the original X-Yachts DNA delivering thrillingly sailing performance!
The introduction price of the first 30 Xp 33's is Euro 101,900. They are all expected to be delivered before summer 2013.
X-Yachts har altid produceret vindende 10m formel
X-Yachts always produce a winning 10m formula. Skriver X-Yachts videre til pressen.
X-Yachts first 33 footer, the X-102, was launched in 1981. She won the official World Championship for ORC Offshore racing yachts (The Three Quarter Ton Cup) a total of 7 times in the eighties! A total of 250 X-102s and X-3/4 Tons were built.
The next 33 was the X-99 which formed a 'one design' Class and achieved official ISAF Recognized Class status. More than 550 were delivered and the class is still active in Northern European countries.
Later the X-332 and X-342 also became very popular with close to 450 of these two models sold.
More recently in 2007 the X-34 was launched. She is an attractive and very comfortable cruiser/racer and enjoys great winning qualities.
She performs very well under most handicap rules, especially under IRC whilst maintaining impeccable sea keeping for the dedicated cruiser. The X-34 is set to remain in the production portfolio alongside her new younger sister.