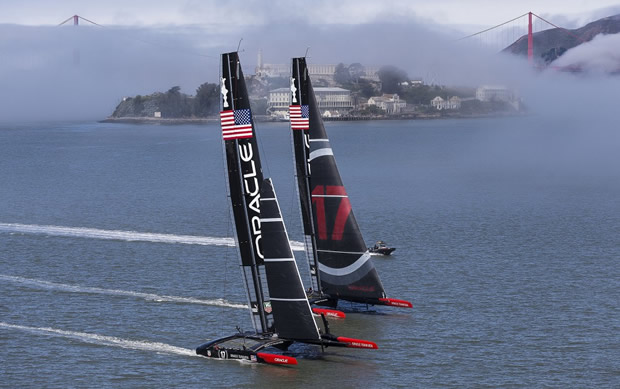 Kapsejlads
Lorenzen-analyse om America's Cup-protester - se også 37 nye regler
7. juli starter udfordrernes serie, Louis Vuitton Cup og dermed hysteriet og PR-trommerne imod de amerikanske arrangører og Team Oracle. Morten Lorenzen giver en længere analyse.
Af Morten Lorenzen |
Louis Vuitton Cup starter lige om lidt, den 7. juli med den lange serie af sejladser der skal afgøre hvem af udfordrene der skal møde Team Oracle i den "rigtige" Americas Cup senere på sommeren.
Med kun tre der udfordrer amerikanerne, Team New Zealand, italienske Luna Rosa og svenske Artimis kan man ikke sige at folkene bag Americas Cup, Larry Ellison og Russell Coutts, har formået at skabe den opbakning blandt de teams de havde håbet på.
Uheld og konsekvenser
I tillæg hertil, har event´en været hårdt ramt af uheld. Specielt det helt forfærdelige kollaps som Artemis var ude for, hvor supersejleren "Bart" Simpson døde, har givet alvorlige konsekvenser for Cup´en.
For det første bliver Artemis ikke klar til starten af Louis Vuitton serien i næste uge. De har meddelt at de forventer, at have deres nye båd i vandet i begyndelsen af juli måned, men at nå at være klar med testsejladser etc, så man kan sejle kapsejlads, er helt umuligt.
Team New Zealand og Luna Rosa tilbød ellers svenskerne at man udskød starten på Louis Vuittton serien til engang senere i juli måned, men det blev klart afvist af Paul Cayard, chefen for Artemis Racing.
Det kan undre, at den officielle første udfordrer, Team Artemis, ikke tager imod denne udstrakte hånd fra de to andre udfordrere. Rygterne vil vide at amerikanerne mere eller mindre styrer svenskerne og satte hælene i. The show must go on og der skal ikke ske flere ændringer end højst nødvendig.
Starter uden svensk hold
Nu startes Louis Vuitton Cup uden svenskerne den 7. juli i en stærkt reduceret udgave. Om svenskerne når at komme med senere håber vi alle på, men tiden vil vise det. Som en konsekvens af dette, har arrangørerne måtte refundere tusindevis af billetter, da en del race-dage nu er annulleret.
Efter døds-ulykken har Race Committee med Regatta Director Iain Murray i spidsen forestået et kæmpe arbejde med at finde løsninger på at forbedre sikkerheden for alle. Det har medført 37 forslag til forbedringer, se listen nederst i denne artikel.
Der har været heftig debat om flere af disse sikkerhedspunkter, idet specielt Team New Zealand mener at man går alt for vidt i bestræbelserne på at gøre sejladserne mere sikre.
Team New Zealand protesterer
Ingen Americas Cup har endnu været gennemført uden drama på sidelinien, voldsomme protester og juridiske trakasserier.
Denne Cup er ingen undtagelse. Grant Dalton, AC veteran og chef for Team New Zealand har nu indgivet protest overfor den internationale jury omkring de ændringer som sejlads ledelsen foreslår i sikkerhedens navn.
Ud af de 37 punkter er det specifikt punkt 1,3 Rudder Elevators som New Zealænderne er tosset over. For det første mener de ikke at det kan tillades at ændre på specifikke design elementer så tæt på starten af sejladserne. For det andet mener de, at Amerikanerne får en mega fordel af denne ændring.
Faktum er nemlig, at Team Oracle de seneste måneder har sejlet med Rudder Elevators, som er en trimtap på rorerne der sikre bedre løft når AC72´er "flyer" ud af vandet. I henhold til den oprindelige design regel, vil det ikke være tilladt at sejle kapsejlads med disse trimflaps.
Det er ok at testsejle med rorflaps, men de må ikke anvendes under kapsejlads. Det står meget klart defineret i design reglen. Under hensyn til sikkerheden, vil det nu være tilladt - og det mener New Zealænderne er en helt urimelig fordel for Amerikanerne.
Med sædvanlig sans for drama, har Grant Dalton oplyst at man overvejer at bringe sagen for en juridisk domstol, hvis den Internationale Jury ikke giver dem medhold i næste uge.
Det vil i givet fald betyde, at Team New Zealand bliver diskvalificeret fra sejladserne, og vil skulle "sejle" deres Louis Vuitton Cup i retten, som formentlig først kan komme til en afgørelsen om 10 måneders tid.
Det bliver nok ved truslen, som vi har set det så mange gang før. Alle Louis Vuitton Cup´s og Americas Cup er blevet afgjort på vandet. Selvom der har været flittig brug af retslokaler undervejs, så har rimeligheden sejret til sidst og resultaterne på vandet har været afgørende.
US Coats Guard kan blive "Dark Horse"
Hele diskussionen omkring disse 37 ændringer kan ende et helt andet sted end forudset. Det amerikanske sø-politi US Coast Guards har nemlig den øverste myndighed for sejlads i San Francisco bugten. Og de overvejer pt helt at fjerne sejlads tilladelsen for Louis Vuitton Cup, indtil man har sikkerhed for at alle rimelige ændringer er foretaget så man undgår katastrofer som den det svenske hold var udsat for.
Så vi kan altså ikke helt udelukke at Louis Vuitton Cup IKKE starter den 7 juli, ikke på grund af juridiske tvister imellem deltagerne, men på grund af myndighederne som ikke er tilfredse med hvad de pt ser.
Vi kan kun håbe at alle sten bliver vendt, at logikken vinder til sidst, og at man får "Go Ahead" signal fra US Coats Guard til start på Louis Vuitton Cup næste søndag den 7. juli, i første omgang uden svenskerne, men med god fight imellem Team New Zealand og Luna Rosa.
Se mere på www.americascup.com - der er masser af spændende materiale og info om hvordan du som flittig internet bruger kan følge med i dramaet, forhåbentligt på vandet istedet for på land ;-)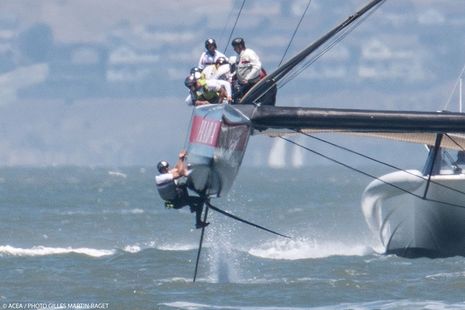 Her er de 37 forslag til sikkerheds forbedringer:
1. AC72 Yacht
1.1. AC72 Yacht Structural Review: Competitors in consultation with ACRM to collectively identify and complete a process of competent third party review or testing process of the structural integrity of the platform and wing.
1.2. Daggerboard Rake Control Hydraulic System: Competitors in consultation with ACRM shall identify and complete a process of competent third party review and testing process of their daggerboard rake control hydraulic systems to ensure an acceptable safety margin and level of reliability.
1.3. Rudder Elevators:
a) minimum total area 0.32 m2 per rudder;
b) minimum depth of elevators on rudder span of 2.1m;
c) maximum elevator span of 1.4m;
d) rudder elevators to be symmetrical in plan form and allowed to extend beyond maximum beam of the Yacht; and
e) elevators permitted to be adjusted until warning signal.
1.4. Crew Restraints: Competitors to effectively restrain crew through bearing-off manoeuvres, severe deceleration, or capsize, such as installation of cockpits, foot-straps, handholds, tether and/or belay points.
1.5. Maximum AC72 Yacht Sailing Weight: The maximum sailing weight specified in AC72 Class Rule 5.10 shall be increased by 100kg.
1.6. Soft Sails: Competitors limited to carrying two soft sails and eliminating theminimum weight in 26(c) of the AC72 Class Rule.
1.7. Guest Racers: No guest racers aboard an AC72 yacht whilst racing.
1.8. ACRM Personnel: AC72 Class Rule 25.1(b) to be modified to remove reference to 'ACRM personnel' – this was originally intended to be a camera person and it has since been agreed to remove such a person from the boat.
1.9. Soft Coverings and Soft Fairings: Soft coverings and soft fairings shall be made of predominantly see-through/transparent material.
2. Personal Equipment
2.1. Buoyancy Aids: Worn buoyancy aids worn by crew to have a quick release mechanism.
2.2. Body Armour: Armour incorporating protection for spine, puncture and impact wounds is to be investigated by Competitors and managed by ACRM.
2.3. Electronic Head Count System: An electronic Head Count System to be investigated by Competitors and managed by ACRM.
2.4. Crew Locator Devices: Underwater crew locator devices to be investigated by Competitors and managed by ACRM.
2.5. Breathing Apparatus: Underwater breathing apparatus to be carried and capable of hands free operation, the volume of air to be carried to be investigated by Competitors and managed by ACRM.
2.6. Helmets: Helmet standards (high visibility colours and specifications) review by Competitors managed by ACRM, with the assistance of recognised expert advisors.
2.7. Self-lowering Equipment: Equipment capable of self-lowering to be carried by each crewmember.
3. Additional Support Equipment
3.1. Support Boat Limits: Remove present limit of four support boats per Competitor (art. 35).
3.2. Two Rescue Boats: Minimum of two rescue boats to support each AC72 yacht whilst sailing.
3.3. Rescue Divers & Rescue Swimmers: Two divers with supporting rescue swimmers ready to enter the water immediately, one diver and one rescue swimmer on each rescue boat.
3.4. Paramedic: A minimum of one paramedic (or an appropriate medical practitioner) on one of the rescue boats.
3.5. Defibrillator: An AED device (defibrillator) to be carried on the rescue boat carrying the paramedic (or an appropriate medical practitioner) who shall be trained in its use.
3.6. Recovery Nets: Rescue nets to be installed on all supporting and rescue boats to recover crew.
3.7. Safety Channel for Competitors: A dedicated safety channel for inter-team safety communications.
3.8. One Way Communications: One-way communications permitted from AC72 yacht to chase boat during all sailing and racing operations.
3.9. Regardless: ACRM's vessel Regardless to be notified, and be placed on stand by for recovery operations upon each sailing of an AC72 yacht.
4. Race Management
4.1. Round Robins: Number of Louis Vuitton Cup Round Robins reduced from seven (7) to five (5) to allow for more maintenance periods.
4.2. Soft Marks: Soft marks to replace mark-boats.
4.3. Starting Procedures: Racing Rules to be reviewed by skippers and Competitor rules advisers with ACRM to remove potentially dangerous
situations including agreeing an alternative starting procedure.
4.4. Wind Limits: Reduced to 20kts in July, 21kts in August, and 23kts in September (as measured pursuant to art. 21.1), but with additional wind limit adjustments for tide and sea state.
4.5. First Mark: First mark to boundary to be approximately 45 seconds.
4.6. Buffer Zones: Safe buffer zones around course boundaries and obstructions to be determined by ACRM.
4.7. Start Time: Flexible start time and flexible pre/post race programme based on wind and projected tidal flows.4.8. Post Race Dock - In: Eliminate the planned dock-in after racing at Pier 27, but skippers to be transferred to a dock-in show at Pier 27 approximately 45 minutes after a race.
4.9. No-Race Fine: Remove fines for not competing (art 21.2 (d)).
4.10. Race Course Debris: Process to inspect and endeavour to clear course of debris and obstructions with assistance from Army Corps of Engineers.
4.11. Capsize While Racing: Upon a yacht capsizing it shall be disqualified and the race awarded to the other yacht, to allow efforts to be concentrated on capsized yacht.
4.12. Develop Standard Operating Procedures Between Competitors for Rescue: ACRM shall develop common safety procedures between competitor'srescue boats, medical personnel, and divers.
5. Future Sailing: Each Competitor must take full and sole responsibility for their own sailing arrangements.
Important additional notes to be read in conjunction with the recommendations:
(i) These recommendations are made by the Regatta Director after the Review Committee interviewed team personnel from all Competitors, and will be refined as the further work identified above is completed.
(ii) The majority of the Regatta Director recommendations represent a consensus of the Competitors.
(iii) These recommendations do not alter the responsibilities assumed and allocated by the provisions of the Protocol or any other rules or document referred to in the Protocol.
(v) Each Competitor is responsible for the method of implementing the recommendations.
(vi) No recommendations can cover all possible risks or address risks that are specific to Competitor specific designs.
(vii) No recommendations can ever eliminate risk of injury or death in what is an inherently risky activity, and the participants must assume full responsibility for all risks involved.
(viii) Each Competitor and crew member remain responsible for their own safety at all times. Each Competitor and crew member must continue to make their own decision to race, or to continue racing.
Safety Recommendations that should be implemented immediately:
1. Personal Equipment
ACRM recommends that each crew member wear:
a) Personal flotation meeting the requirements of RRSAC 40(a) worn as the outermost garment. Note that crewmember names would need to appear on the flotation device
b) A helmet meeting the requirements of RRSAC 40(b)
c) At least one knife that is accessible by either hand
d) A personal air supply of at least 45 liters
e) A harness with a tether or belay device
ACRM recommends that there be a separate maximum weight allowance for personal safety equipment.
2. Training
ACRM recommends the following training:
a) Personal air supply training
b) Training which mimics escaping from under the net when the platform is capsized
c) At least two crew members on board shall have completed First Aid Training with specific course content focused on treating injuries more likely to occur on board the AC72's and how to deal with them while out on the water
3. AC72 Equipment
ACRM recommends the following equipment on the platform:
a) Righting lines permanently attached to each corner of the platform with all righting lines accessible when the platform is at any orientation
b) Knives in the four corners of the trampoline accessible when the platform is upright or capsized
c) Four spare personal air supplies of at least 80 Liters each on the trampoline
4. Rescue Boats and Equipment
A rescue boat with at least 3500 kg towing capability
ACRM recommends that the team rescue boat carry the equipment listed in Attachment A as a minimum.
Safety Recommendations that need to be considered
1. Establishing common emergency drop off zones with the local authorities.
2. Establishing common safe recovery areas for capsized yachts.
3. 1K liters of flotation in the top of the wing to keep it afloat until a team rib can access it.
- The preference seems to be inflatable air bags
- ACRM believes it is best to allow the teams to determine how they prefer to implement this.
- A separate minimum weight allowance would be added for this equipment.
Team Rescue Boat Minimum Equipment List
Medical Equipment
- Medical backpack
- Comprehensive First Aid Kit
- Spine Board x 1
- 2 x Yellow foam waist rings with tethers
- 1 x bag of various pump/air splints
- 1 x small Trauma Kit
Cordage
- 2 x 130 tow rope, 25mm diameter nylon/polyprop, breaking strength of 5 ton.
- 1 x 100 meter anchor line, Anchor.12mm polyprop
- 100m of 16mm spare line
Dive Equipment
- 1 x complete dive kit
- BCD with integrated weights
- Fins
- Mask
- 1 x regulator, gauge, low pressure hose
- 1 x drysuit/wetsuit
- 1 x Pony bottle with back harness and single regulator
- 2 x 10 liter dive tanks
Salvage Equipment
- Airbags
- 4 x 500kg lift
- Trash pump with a flow rate of 1200 L/min or greater
- 1 x cable cutter with long handles capable of cutting rigging away from the platform
- Powered abrasive cutter