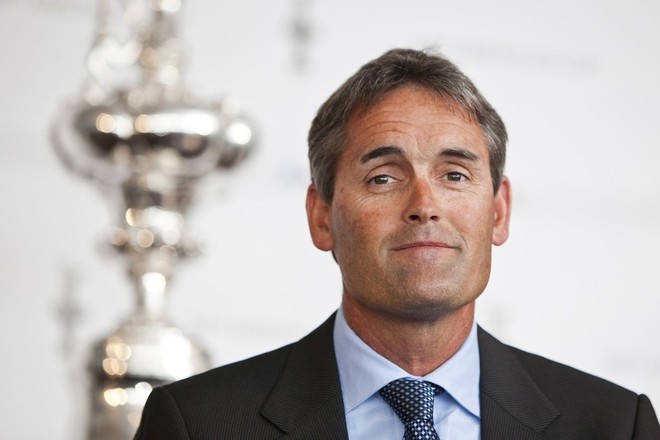 Diverse
Coutts i den varme stol om 34. Cup
Interviewet på engelsk handler om den nye AC72. Det er Sail-world der bringer interviewet med den internationale presse.
Af Troels Lykke |
Boyd: Are they limited to a number of wings?
Russell: Yes I am sorry, the wings are limited to four which to be honest with you, you would struggle to get to four.
The rule is written so you build it in two halves for transportation. We talk about eight mast sections, for example – that's why I said it wouldn't make sense to build four wings. I doubt that anyone will end up doing that – they will probably end up building two wings and then for example, improve or modify the top or improve the flaps or things like that. Your gains in a situation like that would be much better than probably starting again. So you are limited to say four wings in the protocol – eight parts - in other words. And ten dagger-foils, which are quite a time-consuming element to build because they are highly-loaded carbon pieces.
Boyd: are wing wings limited to the two element ones like we saw on USA-17 or can you use three-element ones like we saw on some of the C-class?
Coutts: I'm not 100% sure what is actually in the AC72 rule. What has been talked about conceptually for the 72 rule is that the plan form might be fairly well defined because that is a major performance item.
We want to keep the boats fairly close.
But then in the 45, it is a two-element, one-design wing.
The wing that we had on USA-17 was the biggest wing in the world, I don't want to downplay the technology of that because it was a fantastic piece of kit. It was by no means the most high-tech wing in the world in terms of its geometry. Every yacht designer that knows anything about aerodynamics and wings would agree with that. Because of the sheer size of it, we obviously had to deal with complexities that we won't have to deal with in the 72-ft version of a multi-hull. I think the designs will end up being quite different to what you saw in AC33.
Paul Aleva: I know you guys have been very very careful about not trying to say preference between the possible venues, but is there any way you could possibly sketch out advantages/disadvantages of San Francisco versus the Valencia (Spain) versus Italy?
Russell: As you know we are in negotiations with some different countries. And we have to respect the confidentiality of that. San Francisco has been named publicly and with their blessing to nationalize the effort there. The other venues prefer to remain confidential.
Obviously in all the venues we are looking for reliable wind conditions because one of the key criteria is to avoid delay and obviously San Francisco passes that test with flying colors. There are fantastic wind conditions there. A fantastic harbor is an advantage to any of the venues.
If you use San Francisco as sort of our case, if the course can run past landmarks like Alcatraz – these boats would rip around that harbor very very quickly. I say you could probably do three laps in the Bay in about 45-minutes - reasonably comfortably. So, if you saw recognizable features such as the Golden Gate Bridge, and Alcatraz and so on and so forth – I think that would make compelling television.
You can imagine other venues having features like that. Plus, the fact that the downtown area is right there, again in the case of San Francisco, because it is the only publicly disclosed venue - the city is right there. In other words, the Regatta Village, in a way, is the city. Of course there will be a village as a sub-state of that but that is a fantastic feature. The airport is close and so on and so forth, so the logistics are good.
As I said, there are other cities with whom we are negotiating – we have to also balance whether things can be finished in time, and what the level of infrastructure would be, and what the level of support would be for the America's Cup Community - because obviously venues are one of the bigger ticket items in terms of commercial return that the event provides. Those are some of the factors.
Aleva: Russell, what thought went into 2013 because a lot of people thought it was going to be 2014?
Coutts: Well 2013, we always wanted to have the event basically as quick as possible to get the Cup back on track as soon as possible. It became pretty clear recently throughout our venue negotiations, that the venues could in fact be ready by 2013. Whereas as you probably know, we have had various, pretty serious doubts that some of the venues could be ready, so that was one of the big factors.
What it does is it cuts 25% of the teams budgets out, so that is a significant saving for the teams. So that was two of the factors that encouraged us to go with 2013. Also 2014, we have World Cup Soccer right in the middle of the year, that would have been probably quite difficult to work around, particularly if the venue was in Europe. So that was another factor.
Michelle here from San Francisco. How much fleet racing do you anticipate there being in the next event?
Coutts: Good question. In the World Series we have been talking to some of the television experts, one of the things that we are conscious of is that the teams are able to get exposure. Some sort of guaranteed exposure.
The other big thing about these multi-hulls is that they can race in a wide range of conditions. So they can race and be completely powered up in 5 knots, and then one of the advantages with wing also is you can de-power the thing pretty quickly also, very effectively. In other words we can race in a wide range of conditions and have good racing. The boats will be ripping along even in 5 knots.
So, in the World Series we are seriously thinking about having, and this will obviously need to be discussed with the Regatta Director and the competitors and so forth – but we are seriously looking at a format that would have a one race, live final fleet race. The fleet of multi-hull lined up and a winner-take-all fleet race as a final would be pretty compelling.
As you see in the Protocol, the World Series events will involve both match racing and fleet racing. It is yet to be determined how those points will be scored and so on.
Moderator: So just for clarification Russell. Match and fleets for the World Series and for the America's Cup Selection Trials and Match?

Russell: The Challenger selection series will be determined by the challengers, their format. They will determine their format in consultation with their Regatta Director. As for the World Series events, that is what I was talking about before. That will involve a match racing series, and then more than likely this one race fleet race final on a Sunday that will be live.

Moderator: Will that be 72s and 45s, how is that working?

Coutts: The World Series will start on the 45s next year, as you possibly heard today on the conference – we are doing the 45s for two reasons. One is to get teams up and running in multi-hull and winged multi-hulls as soon as possible. They can also practice their match racing and practice the handling of the wing-sail and so on - at a much lower cost. Because the 45s we also containerise and ship around the world easily and because of the scale are much less expensive than the 72s.
The next concept with the 45s was to use it as a youth boat. We are going to have a Youth America's Cup in 2012 and 2013. That was the point of the 45s. During 2011 teams will be building their 72s. The 45s will be a one-design boat – that will be provided by the event. The 72s are obviously not one-design, because that is what the America's Cup is going to be raced in. They will be built by the teams in 2011 and we will start racing those in April of 2012.

Moderator: What I was asking is when the 72s are racing, are you going to have the 45s sailed by youth teams?

Coutts: Yes. That is the idea. We may also use the 45s to develop some new venues. I will give you an example, whilst it may be too expensive to ship the fleet of 72s to say Brazil or Argentina, we could seriously look at shipping the 45s to a place like that.

Stuart Streuli: Do you envision the 45s as being a self-sustaining circuit or is that going to have to be subsidized by the bigger show to keep it afloat?

Coutts: I think the event funding will have to continue to subsidize that service for that series obviously. That will part of the additional cost of the series but when the youth sailors are sailing those boats – personnel costs are 60% of the budget, but youth personnel are significantly cheaper. so far.

Unknown: Russell, when are we going to hear more about how the Youth America's Cup will work? Will it follow the same timing with the America's Cup in terms of Notice of Race, Sailing Instructions, as well as the sailing or will it have a separate track?

Coutts: This is all things that the Regatta director will have to determine with the teams. For example, you may have read in the Protocol or if you haven't read it, the Regatta Director determines the use of the boats. The teams have to make them availabl, and I would suggest that many of the teams for example – a team from Sweden or a team from Australia or wherever – they will want to develop these youth sailors for their future, to blood some new sailors in an America's Cup style boat. To answer your question, the rules and so forth will be determined in consultation with the competitors and also with the event authority.

Isabelle: I have three questions. Russell, will you get back to those teams that are not that attracted at the moment about the Catamaran idea. Will you take time to talk to them again?

Coutts: Absolutely.

Isabelle: So that means meetings?

Coutts: We will definitely talk to them about it. I think a lot of them had previous questions or concerns answered today. There is no doubt that some of the teams – some of the existing mono-hull teams would have preferred that we stayed in mono-hulls, I think, of course they would. But, it is our belief that the good mono-hull teams could become good multi-hull teams if they wished.

Isabelle: Another question is if I understood you right – it is planned to have that wing ready for a wide range of wind strength but if we face 30 knots of wind – how would we handle the wings in the harbor? If I think of the last time around, it hasn't been that easy.

Coutts: The last wing that you saw in the Oracle racing was a 70-meter wing, this is a 40-meter wing. It is quite a different scale. But you are absolutely right, the logistics of handling the wing at a venue like that will be testing. However, quite obviously with that in mind and the venues under consideration are looking for solutions already. I will use the one that is public again – San Francisco. The area that would be reserved for the boat park and so forth, is a pretty sheltered area tucked in behind the city. Very sheltered so that would provide some relief for that. I think it will also be possible to have systems that you can lower the wing and raise it in stronger winds.

Isabelle: My third one is in the press conference you said there would be a rough cost reduction of about 20%, so what is the reference for the 20% - can you give us the budget?

Coutts: The main drivers are personnel, so personnel costs are at least 60% of a team's budget. That is a normal. The smaller teams spend less but it will still end up being around 60% of their cost. You can go and compare to an NFL team or whatever, it seems to be about the number. What I am saying is the America's Cup is not that different from most other sports in that regard.
The savings with a multi-hull are less people. It is much easier to transport the boats. The concept behind the 72 is that it should be able to broken down and shipped in a 747 cargo plane. The wing is cheaper than conventional sails funnily enough, when you take into account the cost of sail maintenance and sail replacement - because obviously conventional soft sails wear out. But the wing, provided you don't break it (in other words break the main spar) can last for as long as the life of the boat. All of those things actually add up.

Unknown: I just had remembered that we had a conversation about this about a year ago and you said you loved multi-hulls but you didn't think it was right for the America's Cup. I just wanted to know how you explain how you slowly figured out it could be a good idea. You personally, in your mind when did you switch on the idea? Was it like a slow process?

Coutts: Yes, as I said when if first talked a week, two weeks after the 33rd Cup, I think we would have been talking mono-hull but the more we got into it and established the facts and talked to people both inside and outside the industry, it became very compelling that the multi-hull was the right decision. I am glad we didn't rush the decision and make something with only half the facts.

Unknown: Were some people when you talked about it shocked, because there is a very conservative group of people in the America's Cup that might be shocked with this idea – was it difficult?

Coutts: I think there will be some people that are shocked and I probably agree that there will be people that don't agree with the concept and so forth. But as I said earlier, many of the people once they think about it for even a few days start to come around and realize that there are a lot of benefits to the multi-hull. One of the things also that swung me was, I was quite concerned about the impact it would have on match racing. When we went out and tried it, I was convinced that catamarans would be just fine, in fact possibly more interesting in a match race sense.